Game History
(August 2001) - I've had been looking for a Blackout for about a year. Nothing local on Ebay, nothing in Mr. Pinball and nothing at the shows or auctions. I decided to put a "game wanted" ad onto Mr. Pinball to see what would happen. I received a couple of responses from upstate New York and New England, all in the $800 to $1,000 range! I'm in the market for a game that needs some help (that's what I enjoy about the hobby), so I said thank you but no thank you. The ad expired and I decided to try again. This time I received a response from a guy out on Long Island who collected 70s Gottlieb EMs, but had bough a Blackout as part of a package deal and had it in storage. He didn't know if it worked or not, but thought it was in decent condition and was asking $350. Since I had no luck over the past 18 months, I made the trek out to Nassau County to get the game.
One of more interesting aspects of collecting pinball machines is actually buying them. The seller of this machine (Joe I think), said to meet him at a gas station and we would drive to the rented garage where the machine was located. He said that he was in an old Jeep and we should follow him when he showed up. There was another van close to the description I gave him at the station also. I saw him come up to the station, but then the other van left and he followed it! We sat there for about five minutes or so (he had only given me his home number, not a cell number) until he returned, with an embarrassed look on his face. I can imagine what he thought when the other Van stopped following him!
The game was indeed in storage in a rented garage (he had a wonderful '65 Stingray in the garage also!) and he muscled it out for us. The condition was "OK", but it didn't seem to be missing any parts and the backglass looked better than I had expected. We sealed the deal and as usual when I drive out to Long Island, it took us 4 hours to get back home!
Game Restoration
I started the restoration with the first issue to be tackled the playfield wear: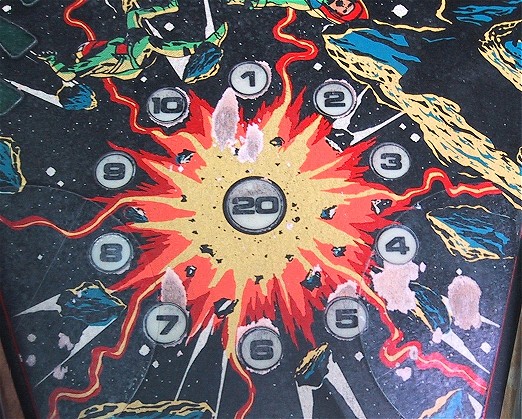 At first glance, the wear doesn't seem to be too bad, however notice that there is Mylar over the wear spots by the slingshots.
I used freeze spray to remove the Mylar, and much to my surprise (or horror!), the paint came off as well as the Mylar!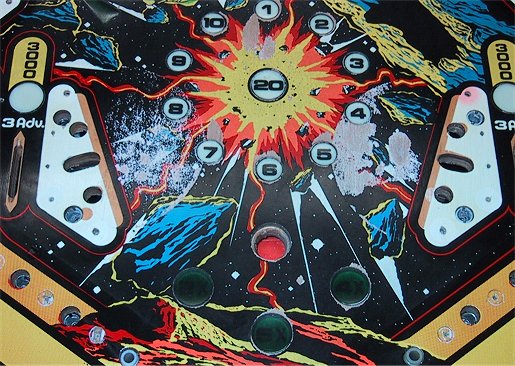 Moral of this story, don't use freeze-spray on Mylar that's been applied over an already damaged area.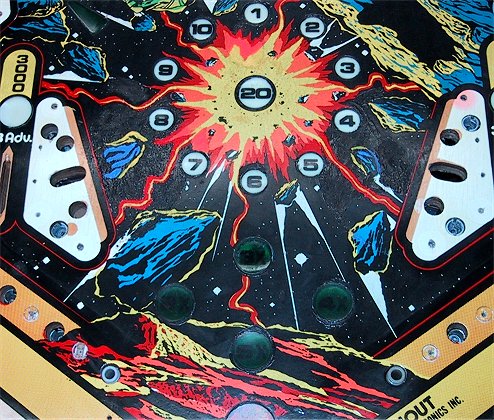 I did make an attempt to repaint the wear and area damaged by the Mylar removal attempt (see above photo), but the results were disappointing (no doubt my absolute lack of any artistic talent was a contributing factor <g>!) and I decided to scrap the restoration attempt on this playfield.
Update March 2004 - This project has been on the back burner for almost two years now. I have in the past two years been able to obtain a replacement playfield that is much better shape. Maybe this will be year? Stay tuned!