My Monopoly Story:
I pre-ordered by Monopoly in August of 2001. Having never seen the game in person, I made a leap of faith off of test game reviews on the pinball newsgroup and the fact that the game was being designed by former Williams designer Pat Lawlor. If you've looked over the rest of my collection, you'll notice that my interest lies mostly in late 70s to mid 1980's Solid State machines. So why does this guy want a NIB (New in Box) Monopoly? A couple of reasons... First, with the current condition of the pinball industry, this might be my last chance to get a great machine NIB. Being a Williams fan, the early reviews of this machine put in more on a par with the later Williams releases, rather than another Austin Powers/South Park type of machine. The Monopoly theme also seemed perfect to me for a great family pinball machine, kind of balances out my Captain Fantastic.
The machine was delivered by truck directly from the Stern Factor on October 5th, 2001. Not bad for a machine that came off the line on October 3rd! I was sitting in my office (which is above my garage), and received a phone call "Hello Mark, this is Joe from R&L trucking. Can you look out the window and tell me if you see a big rig sitting in front of your house?". A quick glance out the window confirmed that my game was here!
| | |
| --- | --- |
| | Rather than have the truck attempt to back down 300' of our driveway, I drove my pickup out to the street and the driver lowered the lift gate right into my truck's bed. He thanked me quite a few times for making this delivery one of his easiest. |
Here's a NIB Monopoly pinball ready for the trek down to the basement!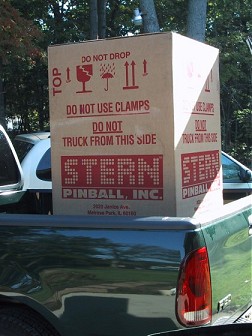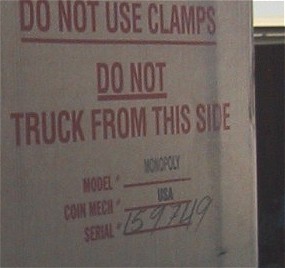 Got to tell you, those guys know how big to make the box! The back stairs to the basement have a 32" door and we had about a 1/4" clearance on either side. My only fear was that as we (my wife and I) were attempting to push the box through the door to the inside landing, it would "pop" through and head all the way down stairs. I could hear that call to the Insurance company!

I don't have any photos of the machine actually going down the stairs, but we've come up with a great method of moving machines up and down stairs. A rope is tied around the box (or machine) and then looped through a hole drilled through a set of double studs in the garage wall. One person works the rope, with another behind the machine on the stairs (that's usually me!) to guide it and we slide it up or down.
The moment! Sliding the machine out of the box. What a wonderful site!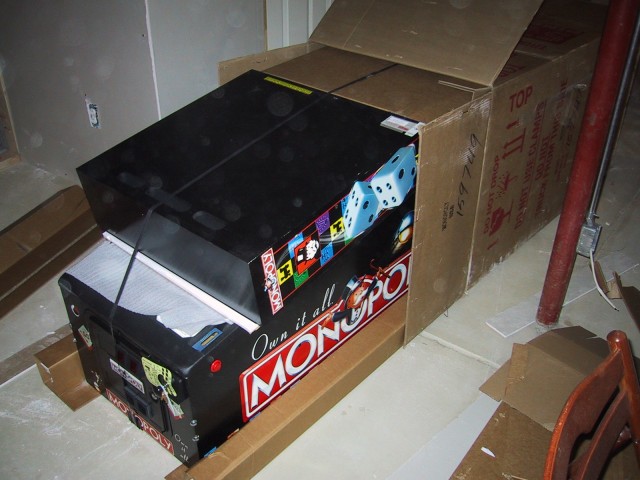 Much more to come shortly, but here is game 1, ball 1 played on October 5, 2001!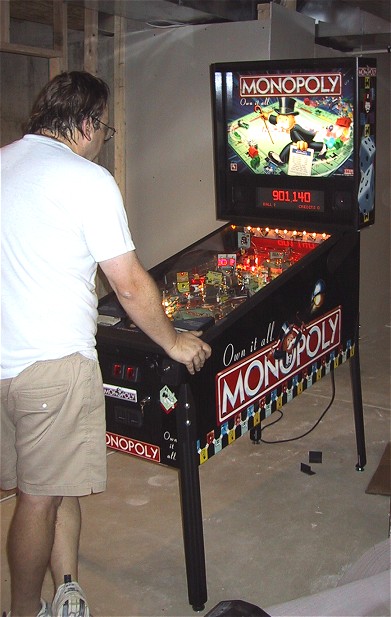 The Mr. Moneybags key fob that comes with the game..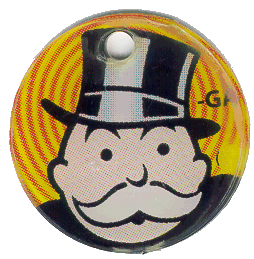 Kids like it too! Here is my daughter and a friend playing..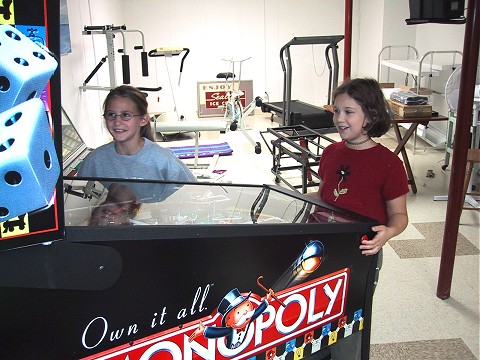 Update! In April of 2003 I moved my office to a location in downtown Hammonton and moved my Monopoly machine with me. So if you're ever on Central Avenue in downtown Hammonton, NJ, stop by and we'll play a game!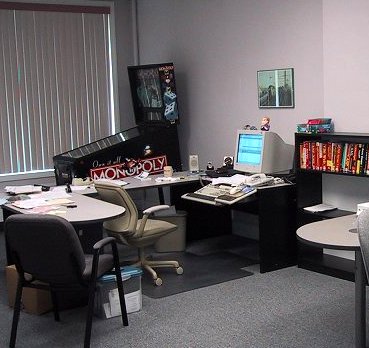 And finally, some Monopoly trivia. A published article a few years ago attributed the "Short Line" railroad to be a bus company. Now there is a bus company called "Short Line" that runs out of Atlantic City, but it runs to New York. Charles Darrow, the inventor of the game, lived in Philadelphia, so he would have never had an opportunity to ride the Short Line buses. Most of us locals think that Darrow was thinking of the Shore Fast Line trolleys that ran from the Boardwalk in Atlantic City to the Boardwalk in Ocean City. It was the "short" way to get around back then, and was sometime called the short line by locals.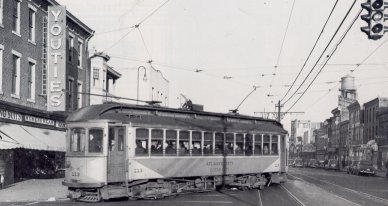 A closer view of this photo... How did they know!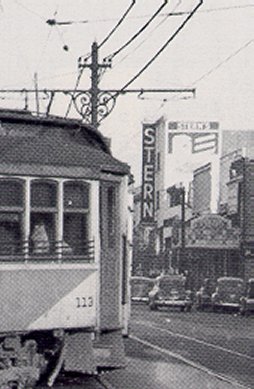 (photo courtesy PRRT&HS)